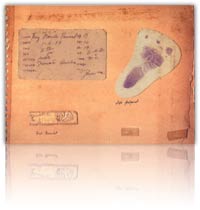 Born PIOLO JOSE NONATO PASCUAL on January 12, 1977 to Amelia "Amy" Nonato and Philip (Herzig) Pascual. The youngest of six (four girls and 2 boys), Peejay (his nickname) was considered a "miracle baby". On or about her sixth month of pregnancy, mom Amelia was told that her unborn child no longer had a heartbeat. A dilation & curettage (D & C) procedure was to be performed but due to low blood count, it was postponed for a couple of weeks. A return to the hospital later resulted not in a D & C but a confirmation that the baby was alive. The baby that was due December 8, 1976 was not delivered until January 12, 1977 by Dra. Lageras at the ANTY hospital in Manila. Piolo was not only a healthy baby boy, but a baby born with 2 teeth.

Piolo's father, Philip was the son of a full blooded German, Harold Herzig and Aurora Victoriano who remarried a Pascual after Harold's death. Piolo himself lost his father when he was sixteen.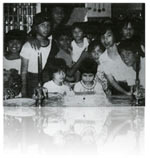 The Pascual family is close knit even with their mother immigrating to the United States when Piolo was 12. Older siblings Ana Carmina (Chiqui), Paulette Ann (Babsy), Pocholo Jose (Choi), Pamela Ann (Pam) and Patricia Ann (Pats) took care of him and of each other. Eventually, Piolo and Patricia followed their mother to California before he turned 18.

Piolo's early education started in San Miguel Catholic School near his mother's work at Malacanang. He later transferred to St. Francis School with his sister Patricia. It was in St. Francis that the young Peejay was introduced to acting. He joined the school's theater, Teatro ni Kiko, when he was just in fifth grade. After high school, he enrolled at the University of Santo Tomas, taking up Physical Therapy. It was in UST that he continued his theater work via Teatro Tomasino.

During one of the times that Piolo's Dad disciplined him and Patricia, a family friend picked them up and on their way home stopped at the taping of German Moreno's That's Entertainment show. It was there that a staff member saw a potential star in Piolo. He was asked to audition and later got a call back to be part of the show. After a year, he went on to audition for more shows like ATBP and Star Circle 2, both of ABS-CBN. But just a week before his Star Circle launch, he had to migrate to the United States.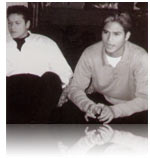 In California, Piolo worked odd jobs and even became an emergency room admitting clerk. In between his various jobs, he managed to attend acting workshops. Acting was his passion and it was in Manila that his chances were waiting. Even with his Mom's opposition, he went back to Manila to pursue his dream.

Back in Manila, Piolo started where he left off. Mr. M (Johnny Manahan) signed him as one of the Star Magic artists. He joined a series called Sa Sandaling Kailangan Mo Ako, playing Raffy. Later, he won a breakthrough role in "Lagarista" directed by Mel Chonglo which was brought to international film festivals. It was in the soap opera "Esperanza" that he was teamed with Judy Ann Santos. Even with the role of the villain, Piolo's performance was noticed and his role was expanded till the end of the soap. "Esperanza" was the beginning of the "Piolo-Juday" loveteam, which is considered as one of the most successful team-ups in Philippine showbusiness. Their movies "Kahit Isang Saglit", "Bakit Di Totohanin", "Till There Was You" and "Don't Give Up On Us" became box office hits and their soap operas "Sa Puso Ko Iingatan Ka" and "Sa Piling Mo" were top raters. He was also paired with award winning actresses in the likes of Claudine Barretto, Bea Alonzo, Maricel Soriano and Angel Locsin to name a few. His major achievement though came when he received the grand slam best supporting actor award from the movie "Dekada '70", playing Jules, the son of veteran actors Christopher de Leon and Vilma Santos.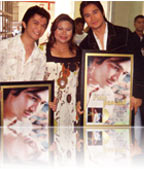 Movies and TV shows were not the only medium that carved the name Piolo Pascual in Philippine showbusiness. Piolo became a recording star with various gold and platinum CD's. His stint with the variety show ASAP proved that he can be a performer. Successful concerts abroad also proved that. He also became one of the country's leading endorsers. Billboards lined up in highways with him endorsing brands such as Hammerhead, Max's chicken, San Mig Coffee, Bench, Belo, Banco de Oro, etc.

The year 2009 marked another milestone for Piolo. He ventured into independent film production through "Manila" and travelled to the prestigious Cannes Film Festival to represent the Philippines. He then expanded to producing a commercial film in "KimmyDora", starring comedian Eugene Domingo under Spring Films, a production company he founded with three friends. Their first venture became a hit in the box office and a next project is in the works.

Even with Piolo's success, he has not forgotten to give back to the community. With his siblings, Hebreo 12:1 foundation was formed. Medical missions, disaster assistance and education are some of the main endeavors of Hebreo.
Written By: Rose Flores (last revised: January 8, 2010)