ASAP (2005 - Present)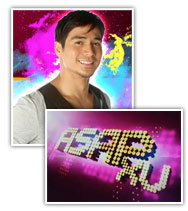 ASAP XV, originally known as simply A.S.A.P. (All-Star Sunday Afternoon Party) is a Philippine noontime variety show aired by ABS-CBN. The show is presented by its main hosts Zsa Zsa Padilla, Martin Nievera, Vina Morales, Piolo Pascual, Sarah Geronimo and Gary Valenciano. The show is broadcast from ABS-CBN Studio 10, the network's biggest studio, in Quezon City. Showbiz godfather Johnny Manahan directs the Sunday musical-variety show. In 2003, the show was reformatted as ASAP Mania, after which some of its original hosts went to the rival show, SOP Rules. The current format started in 2005 as ASAP '05.
Segments: Pop Icons, Heartthrobs
From 2005 - Present

Lovers in Paris (2009)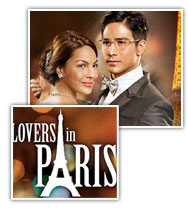 Character: Carlo Aranaz - is an uptight businessman who will hire Vivian to pose as his fiance and he found ways to get Vivian's attention which led to his love for her. He loves Vivian so much that he proposed to Vivian to marry him.
Air Date: September 28, 2009 – December 11, 2009
Plot: The much anticipated Koreanovela remake of 2009 featuring Piolo Pascual, KC Concepcion and Zanjoe Marudo, Lovers in Paris follows the story of three people who will discover the complexities of love. For Carlo, love is but a responsibility. For Vivian, love is the greatest thing to give and to receive. For Martin, love is self-gratification. Despite their different views, these three will learn go through a life-changing experience when their paths cross in Paris. Just when they thought they have found the right love at the perfect place, they will all realize that it's not yet the perfect time. Will there be a second chance for Carlo, Vivian, and Martin?
Cast: Piolo Pascual, KC Concepcion, Zanjoe Marudo, Christopher De Leon, Maricar Reyes

Komiks Presents: Mars Ravelo's Nasaan Ka Maruja? (2009)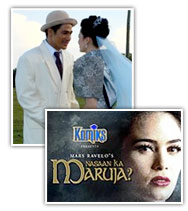 Character: Gabriel Montero - the mysterious man who is in connection to the life of Maruja. It was later revealed that he was the man Maruja is running away with, and not the same man as Ross.
Air Date: May 2, 2009 – August 8, 2009
Plot: The storyline deals with the concept of reincarnation: Maruja (Kristine Hermosa) reincarnated as Cristy & Gabriel (Derek Ramsey) reincarnated as Ross. Cristy Rivera (Kristine Hermosa) is a magazine columnist who possesses psychic & paranormal abilities that help her see ghosts. She has a half-sister named Helen (Karylle) who is engaged to Ross Lozano. Cristy dreams of a certain couple, Maruja and Gabriel, who had a hard time being together because of their different status in life. They were both killed after getting married. Little did Cristy know that she and Ross, her half sister's fiance, would bring back to life the unfinished love story of Maruja & Gabriel.
Cast: Kristine Hermosa, Derek Ramsay, Piolo Pascual

Lobo (2008)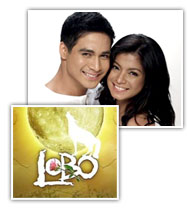 Character: Noah Ortega - Working as a Second Lieutenant in the Philippine Army, Noah is known for his intelligence, skills and speed in combat. Behind his quiet and mysterious look lies a man who is capable of loving deeply. Will he defy everything he believes in for the sake of love?
Air Date: January 28, 2008 – July 11, 2008
Plot: The plot revolves around young lovers Lyka Raymundo and Noah Ortega. Lyka is a young woman aspiring to be a fashion designer and works as a fashion assistant in the House of Elle. Her decision to pursue the arts is frowned upon by her Tita Clara Rivero because, according to her, it is not a practical choice.
Noah becomes a second lieutenant of the Philippine Army. During a crucial mission, he saves Don Manolo Sebastian and becomes involved in the battle between the Luna and the Waya.
Lyka's position as fashion assistant to Lady Elle is foreshadowed by the fact that she is believed to be the last hope of her fellow white wolves: "Ang Huling Bantay". It is through the House of Elle that Lyka crosses paths with Noah, Lady Elle's bodyguard and driver. Little does she know that he is actually her childhood friend, "Jay-Jay" whom she thought was long dead. When Lyka and Noah finally meets and falls in love, something had to tear them apart.
Cast: Piolo Pascual, Angel Locsin, Agot Isidro, Pilar Pilapil

Be Bench / The Model Search (2007)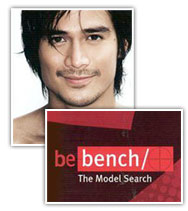 Character: Host - as himself
Air Date: July 29, 2007 – September 16, 2007
Plot: Be Bench/The Model Search, is reality TV show produced by ABS-CBN. The show is hosted by bench superstar Piolo Pascual and Kris Aquino, is an 8-week run of show. This is in search for the next famous Bench models and ABS-CBN stars.
After nationwide auditions in Metro Manila, Luzon, Visayas and Mindanao with thousands of aspiring TV stars and bench models, Be Bench/The Model Search has selected the most beautiful, fit and fabulous contestants. The contestants' abilities are tested each week as they strive to master the fashion photo shoots, perfect publicity skills and learn the business aspects of becoming the next big thing! All of these happen in front of the camera!

Walang Kapalit (2007)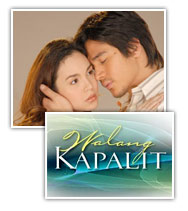 Character: Noel Borromeo - the strait-laced stepbrother of Melanie. Raised by his father's iron hand, he tends to be rigid, and wants nothing but to achieve his father's high expectations from him. Still grieving from his mother's unexpected demise, he hates Melanie to the core, thinking that she and her mother, Agnes snatched Noel's mother's place in Ariston's heart. After a disastrous marriage to Cynthia, he ends up marrying Melanie, his true love, but not without many challenges.
Air Date: April 23, 2007 – August 31, 2007
Plot: A very different Television series A couple from the past Ariston and Agnes are past lovers whose spouses died and they have children from those relationships Ariston has Noel and Agnes has Melanie but both children hate each other and like each other afterwards but a forbidden love separates all and complications arise when death of their spouses lead them to leave each other in this powerful drama.
The story takes place in the late 90's where Melanie Claudine Barretto and Noel Piolo Pascual are teenagers Melanie is a high school student and Noel is a soon to be College student soon to take over the family business but fate plays a trick as Melanie blossoms into a more beautiful girl.
Cast: Piolo Pascual, Claudine Barretto, Edu Manzano, Dina Bonnevie

Sa Piling Mo (2006)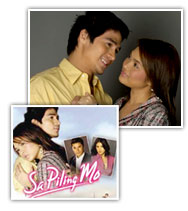 Character: Adrian Tuazon - plays Jennifer's blind childhood sweetheart. Determined to overcome his blindness, he supports himself as a folk singer and was about to propose to Jennifer when fate intervened and the two lovers are separated. He falls in love with Nicole, the woman who saves him from destitution and restores his eyesight.
Air Date: February 27, 2006 – August 25, 2006
Plot: In this must see TV event, directed by three of ABS-CBN's finest directors – Jerry Lopez-Sineneng, Trina Dayrit and Rory Quintos, "Sa Piling Mo" brings us Judy Ann and Piolo in a more mature storyline. "Sa Piling Mo" is the tale of Jennifer and Adrian, childhood friends who fall in love with each other as they grew up. Despite Adrian being blind, he is full of life, something readily apparent in his passion for singing. Jennifer learns that Adrian's handicap can be cured but not without a high price. With time being the enemy, for her boyfriend's condition will be permanent in a year, Jennifer resorted to joining a crime syndicate and was caught and imprisoned. What happens now to the separated lovers and their dream of a better life together?
Cast: Piolo Pascual, Judy Ann Santos, Albert Martinez

Bora: Sons of the Beach (2005)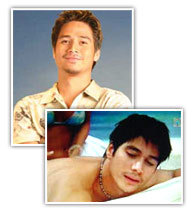 Character: PJ -he owns a bar in a Boracay where most of the people chill. He's uptight, smart, music lover, and adventurous. All he wants is a simple life. He is also known as the Tragic Lover Boy because most of his (ex) girlfriend leaves him in the end.
Air Date: 2005 - 2006
Plot: Bora, a sitcom of ABS-CBN, is a colloquial term for Boracay, an island in the Philippines.
Cast: Piolo Pascual, Carlos Agassi, Bernard Palanca, Diether Ocampo, Jericho Rosales, Luis Manzano

Mangarap Ka (2004)
Character: Oslec / Dragon King - a troubled man with a dark past who fights the bad people to help and protect the poor just like Robin Hood.
Air Date: March 29, 2004 - October 8, 2004
Plot: A light drama with elements of action and adventure, "Mangarap Ka" marks a new direction for its makers ABS-CBN, which has created and perfected the teleserye genre over the years. Spotlighting the colorful sights and sounds of downtown Manila, "Mangarap Ka" is set in Quiapo, where we meet Oslec (Pascual), a street-smart young man whose life is about to be changed when he meets a lost young boy named Tikoy (newcomer Steven Christian Fermo).
Cast: Piolo Pascual, Angelica Panganiban

Buttercup (2003)
Character: Lance
Air Date: 2003-2004
Plot: Buttercup is a Filipino television series starring Claudine Barretto, Assunta de Rossi, Piolo Pascual, Diether Ocampo and Angelu de Leon. The series aired in 2003-2004.
Cast: Claudine Barretto, Angelu De Leon, Assunta De Rossi, Piolo Pascual, Diether Ocampo, Onemig Bondoc, Bobby Andrews, Carlos Agassi

2001 - 2003 - Sa Puso Ko Iingatan Ka -as Jordan Villamines
1999 - Esperanza - as Brian
1998 - Sa Sandaling Kailangan Mo Ako
1995 - Gimik
1995 - Mara Clara
1994 - A.T.B.P - as Kuya Miguel
1994 - That's Entertainment